Engrish 09

FEATURED ENGRISH ITEM: Dr. Shit



Wego Wego Ruga's "Dr. Shit" UFO Catcher Doll.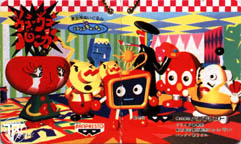 Predecessor to South Park's Mr. Hanky, our friend Dr. Shit was a popular character on
the Japanese children's show, Wego Wego Ruga. Yes, a shit in the can.
Addendum << The TV programme was not called "wego wego ruga", but "ugo ugo ruga", which was an anagram. "Ugo ugo ruga" was an anagram of "gou gou garu (go go girl)". The TV prgramme actually seemed like a prgramme for children. But, in fact, it was for adults. It just pretended to be a tv prgramme for children. Best regards, a2c >>
REVIEW: Dr. Shit ROCKS!
---
"Carefully baked with most experienced skill to extra thin biscuits"
---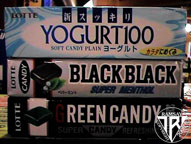 Miscellaneous Candies: Yogurt 100, Black Black and Green Candy.
---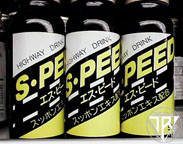 S•PEED Highway Drink.
Only available in Los Angeles.
---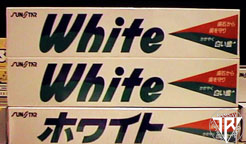 White Toothpaste.
With a name like "White", it's gotta be right!
---

Copyright 2000~2003 David Ramsay and Kimberly J. Ramsay. All rights reserved.
"The Japanese Animation Super Premier Entertainment Review" ,
"the J.A.S.P.E.R." and "theJASPER" logo are trademarks of David Ramsay, 1998~2003.
"theJASPER Cosplay Closet" logo and
"The Cosplay Closet: 'Where Costumes Become Anime-ted'" slogan
are ® Registered Trademarks of theJ.A.S.P.E.R. Cosplay Closet, Inc., 1999~2001.
"CosPuu Gallery", "Hame-Kame Cosplay", "Cospure Magic Fantasy",
"Pika Pika Cosplay", "Pika Pika Boutique", "Heimlich's Leafy Depot"
and "theJ.A.S.P.E.R. Engrish" Copyright 1998~2003 Kimberly J. Ramsay.
David "Z-RAM" Ramsay and Kimberly "Hikaru-chan" J. Ramsay acknowledge the
copyright holders of materials contained herein and do not seek to infringe on their rights.
Reproduction in whole or in part without permission is prohibited.
First uploaded March 15, 2000 by: David Ramsay