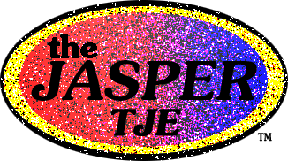 Welcome to Engrish
Konnichiwa! Thanks for stopping by. We hope you throughly browse our unusual site, dedicated to the wonderful world of Japanese Engrish products. Including, but not limited to Japanese junk food, health/beauty products, toys, music and fashion. You will see plenty of familar products (classics, such as Pocky, Pocari Sweat, ChocoBall, etc.), as well as downright wacky stuff. Fortunately, we stumbled across some RARE footage of Japanese Engrish being used in popular commercials. Screen captures of the original commercials are scattered throughout the site for your viewing pleasure. We decided to mix the items up, instead of organizing them according to type. So, take your time and look around. Stay with us as we grow, and continue to document the strange and funny products we have grown to love.
Follow the gallery links to the left. Each gallery has a "Featured Engrish Item", that we feel was befitting further exploration.
Click on images for a larger view!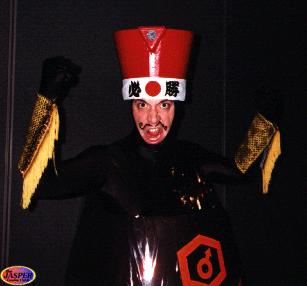 Kikko-Man, the Naturally Rude Soy Man! Hell yeah!
DISCLAIMER: theJ.A.S.P.E.R. acknowledges the copyright holders of materials contained herein and do not seek to infringe on their rights. All images and products contained on these pages are here for entertainment purposes only. They do not constitute or imply an endorsement or recommendation by theJ.A.S.P.E.R.. Likewise, theJ.A.S.P.E.R. has not received any compensation for this unintentional promotion. We are not liable for any use of these products by you.

WARNING! WARNING! WARNING! WARNING! WARNING!
If you are of a weak or sensitive constitution, or find offense in the following words:
Mandom, Skin Milk, Collon, Robocock, Fuck, Plussy, Shit, etc...
You may want to consult your spiritual advisor (pastor, rabbi,
spirit guide, etc.) before continuing on this journey alone. If rash
or irritation persists, discontinue use and consult a physician.
---

Copyright 2000~2003 David Ramsay and Kimberly J. Ramsay. All rights reserved.
"The Japanese Animation Super Premier Entertainment Review" ,
"the J.A.S.P.E.R." and "theJASPER" logo are trademarks of David Ramsay, 1998~2003.
"theJASPER Cosplay Closet" logo and
"The Cosplay Closet: 'Where Costumes Become Anime-ted'" slogan
are ® Registered Trademarks of theJ.A.S.P.E.R. Cosplay Closet, Inc., 1999~2001.
"CosPuu Gallery", "Hame-Kame Cosplay", "Cospure Magic Fantasy",
"Pika Pika Cosplay", "Pika Pika Boutique", "Heimlich's Leafy Depot"
and "theJ.A.S.P.E.R. Engrish" Copyright 1998~2003 Kimberly J. Ramsay.
David "Z-RAM" Ramsay and Kimberly "Hikaru-chan" J. Ramsay acknowledge the
copyright holders of materials contained herein and do not seek to infringe on their rights.
Reproduction in whole or in part without permission is prohibited.
First uploaded March 15, 2000 by: David Ramsay
Updated on May 27, 2000
Updated on June 8, 2000