About Me




I love to cosplay, or dress up in costume for fun.
Hello, my name is Kimberly. I have been collecting Takarazuka Revue merchandise for several years. Back in 1991, I watched a documentary on Takarazuka Revue. That was my first introduction to the Revue, and I immediately wanted to see more. Unfortunately, I didn't know where to buy Revue merchandise...couldn't afford a plane ticket to Japan either. After I moved to California, I was able to purchase Takarazuka Revue magazines and books from my local Japanese bookstores. Then, I found a Japanese video store that carries Revue shows. What attracted me to Takarazuka Revue? The gorgeous costumes, of course! My husband, David, designs and fabricates costumes. We are both very interested in the theater and costume history. David and I host panels and judge costumes at Anime and Sci-fi conventions. We also enjoy performing on stage in costume. David and I also collect Japanese antiques and pop culture (anime, manga, dolls, robot models, etc.). Takarazuka Revue inspires us to design high quality and beautiful costumes. We are always planning costume projects, and figuring out how we can make our costumes better.




Our "CPC Pageant" costumes are glitzy and bold.
My husband was definitely influenced by the Takarazuka Revue;
he piled on medals, cording, sashes and other sparkly elements. I was happy to wear a tiara!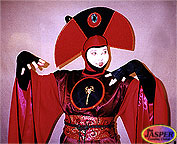 Our "Scorpii" costumes are a bit darker in theme and color.
My husband was influenced by many different elements:
CLAMP illustrations (Tokyo Babylon and X), Star Wars and Takarazuka Revue to name a few.
To see more of my husband's work, please visit David's Costume Gallery.

---
"China Doll", "CPC Cheongsam", "CPC Pageant", "CPC Pageant Boy", "CPC Pageant Girl",
"Mana Oiseau", "House of Scorpii", "Scorpii Lord" and "Scorpii Lady"
Copyright 1993~2001 David Ramsay and Kimberly J. Ramsay. All rights reserved.
These Takarazuka Revue galleries visited
times since 3/30/02
Free counters provided by Andale.


Copyright 2002~2003 David Ramsay and Kimberly J. Ramsay. All rights reserved.
"The Japanese Animation Super Premier Entertainment Review" ,
"the J.A.S.P.E.R." and "theJASPER" logo are trademarks of David Ramsay, 1998~2003.
"theJASPER Cosplay Closet" logo and
"The Cosplay Closet: 'Where Costumes Become Anime-ted'" slogan
are ® Registered Trademarks of theJ.A.S.P.E.R. Cosplay Closet, Inc., 1999~2001.
David "Z-RAM" Ramsay and Kimberly "Hikaru-chan" J. Ramsay acknowledge the
copyright holders of materials contained herein and do not seek to infringe on their rights.
Reproduction in whole or in part without permission is prohibited.
"Takarazuka Kagekidan", "Takarazuka Revue", "Takarazuka," and any images portraying
characters from any of the mentioned theater troupes © Takarazuka Revue Company,
Hankyu Corporation and associated parties.
First uploaded March 30, 2002 by: Kimberly J. Ramsay