Yuu Todoroki Image Gallery One
NONE of these items are for sale.
This is a private collection.
Yuu Todoroki is my favorite otokoyaku of the Takarazuka Revue. She is stylish and confident. In my opinion, Yuu is the most effective in blurring the gender boundaries. She is absolutely sexy dressed as a man and believable. Yuu is a strong singer and dancer in the Revue, rightfully earning her Top Star status. She definitely draws attention with her smooth sophistication.
Troupe: Snow
Name: Yuu Todoroki
Name Meaning: distant thundering
Nicknames: Ishi-chan, Tomu
Height: 168 cm
Debut: 1985
Became Top Star: 1997 (A Ghost at Midnight/Le Sherban)
For more information about Yuu Todoroki, please visit:

With Yuu (Japanese) An enormous Yuu Todoroki fan site, with beautiful artwork, customized dolls, teddy bears... even pets dressed up as Yuu! One has to see to believe...

The Iceberg (Japanese) Attractive fan site, with pretty artwork of Yuu Todoroki.




Yuu Todoroki off stage.
She is frequently wears long, padded jackets with pants, or over skirts.



Yuu is very sexy in her purple suit.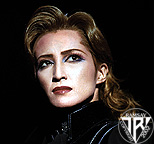 Yuu looks great as a brooding hero.

Please select from one of the two Galleries below:
---
These Takarazuka Revue galleries visited
times since 3/30/02
Free counters provided by Andale.


Copyright 2002~2003 David Ramsay and Kimberly J. Ramsay. All rights reserved.
"The Japanese Animation Super Premier Entertainment Review" ,
"the J.A.S.P.E.R." and "theJASPER" logo are trademarks of David Ramsay, 1998~2003.
"theJASPER Cosplay Closet" logo and
"The Cosplay Closet: 'Where Costumes Become Anime-ted'" slogan
are ® Registered Trademarks of theJ.A.S.P.E.R. Cosplay Closet, Inc., 1999~2001.
David "Z-RAM" Ramsay and Kimberly "Hikaru-chan" J. Ramsay acknowledge the
copyright holders of materials contained herein and do not seek to infringe on their rights.
Reproduction in whole or in part without permission is prohibited.
"Takarazuka Kagekidan", "Takarazuka Revue", "Takarazuka," and any images portraying
characters from any of the mentioned theater troupes © Takarazuka Revue Company,
Hankyu Corporation and associated parties.
First uploaded March 30, 2002 by: Kimberly J. Ramsay