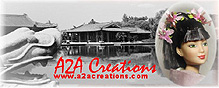 A2A Creations (E) Pretty customized 1/6 scale dolls, featuring Asian-inspired and Fantasy characters.

Antonette Cely Dolls (E) An extensive site, with one-of-a-kind dolls, dollmaker techniques, references and more.

A Page for Japanese Dolls (E) Judy Shoaf's comprehensive website, celebrating the history and various types of traditional Japanese dolls. Includes pictures of her lovely Ningyo collection. Excellent resource for data, images and links of other traditional Japanese doll enthusiasts and dealers.

Aquacurio (J) A MUST visit! Incredible website of customized 1/6 scale male figures... including a sexy Jack Sparrow! If you like Blythe dolls, there is also a website dedicated to her.

Atemi_on_line (J) Customized Volks dolls and stories, featuring his "MS Doll".

Attack of the Anime Toys! (E) Pam's huge collection of 1/6 scale Japanese dolls, including Volks, Jenny, Licca and anime-inspired creations. She has a beautiful collection of Rose of Versailles dolls from around the world.

Azone (J) High-end dolls, clothing and doll making supplies.

Barbie Barbie (J/E) Naoko Tsunoda's fantastic collection of Barbie and other Fashion dolls.

Biscuit's House (J/F/E) Helene's lovely collection of Super Dollfie, Fashion Dolls and handmade Teddy Bears.

CHIC Studio (J/E) Gorgeous and sexy customized 1/6 scale and Super Dollfie dolls. Excellent photography and attention to detail.
Chomick & Meder: Figurative Art & Automata (E) Unique and award-winning creations, definitely worth a visit. My personal favorites are "ElviSan" and "Balthazar".
Cindy Lorimer Design: Fashion Doll Art (E) Beautiful customized Gene dolls and couture fashions.

Clay Vision (E) Amazing miniatures from clay, and other Japanese American themed gifts.

Crawford Manor (E) Beautiful fashion dolls, customized by Cheryl Crawford.
Creager Studios (E) Exceptional gallery of polymer clay dolls by Jodi and Richard Creager. Excellent photography, and useful doll links are provided.
Customized Honey (J) Customized Noix De Rome dolls.
Daruma Museum for Papermachee and Clay Dolls (J/E) Visit Dr. Gabi Greve's entertaining blogspot about traditional Japanese dolls. Also includes sections on wooden Kokeshi dolls.

Daughters (E) Aisha's lovely customized dolls.
Doll Designs by Jasmar (E) Gorgeous customized OOAK, Gene and Barbie dolls. Features stunning Asian and African American dolls in exquisitely detailed costumes.

Doll Eye's (J) Beautiful Super Dollfie doll image gallery.

Dollhouse Noah's Gallery (J/E) Fantastic jointed dolls, dressed in handmade kimono, includes a "How To" section.

Doll No Kobeya (J) Marui's gorgeous customized dolls.
Doll Paradise (J) Marimo's collection of Jenny and Licca dolls.

Doll's Doll's (J) Large doll collection, including customized dolls of Takarazuka Revue performers.

Doll Sight Navigator: Doll Circus (J) Extensive list of Doll customizers and collectors.

D Side (J) Customized Volks dolls and stories.

Eolo Testi - Doll Maker (E) Museum quality character dolls. His dolls are all hand-sewn in detailed fashions, including boned corsets and period footwear. My personal favorites are "Puss 'n' Boots", The Earl of Surrey" and "The Jailor".
Evgenia Seagall - Dolls Collection (E) Pretty historical and fantasy dolls by Evgenia Seagall. Check out her Madame de Pompadoure and Nataly dolls. Evgenia also designs whimsical Santa Clauses and Clowns.
Fantasy Art of Marilyn Radzat (E) Marilyn's unique faerie creations, made from clay, glass and other found objects.

Flintblack's Homepage (J/E) Customized dolls, includes character dolls from anime, manga and video games.
Forever Dreams (J) Sheep's pretty customized Barbie dolls that resemble Takarazuka Revue performers. Includes Rose of Versailles characters!
Friendship Dolls (E) Learn about the fascinating history of the Friendship Doll exchange between Japan and the United States in 1927. Extensive research on Friendship Dolls, including many photos and links.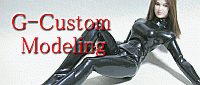 G-Custom Modeling (J) Mature website, featuring beautiful 1/6 scale dolls in a variety of sexy fashions. Impressive use of stretch fabrics and clean edging, on small scale figures.
The George Stuart Historical Figures (E) Stunning museum quality historical figures. I was fortunate to see Mr. Stuart's figures at The Museum of Miniatures in Los Angeles, before it closed to the public.

Gonz World (J) Fabulous collection of Inu-Hariko and Maneki-Neko figurines. Includes pictures of an adorable dog, named "Gonzou", too!
Green Spirit Studio (E) Figurative sculpture in mixed media by artist Carleigh Hoff. Exquisite Faerie and Goddess dolls.

Happy Weave (J) Sexy and fanciful, 1/6-scale customized dolls by Kiuyudanho.

Hayashi's Art Gallery (J) Amazing customized dolls and models. Excellent photography and doll clothing.
Ichimatsu: Dressed Up Traditional Japanese Doll (J/E) Learn about the history of Ichimatsu dolls, and see many beautiful images of dolls and accessories.

Ichimatsu Ningyo Takumi-kai (J) Website featuring Ichimatsu doll artists.

Jack in the Box (J) Customized dolls, including many "beautiful boy" dolls. Good photography.

Jenny's CosPlay (J) Jenny and her friends, wearing a variety of costumes from anime and manga. Includes Mobile Suit Gundam, Five Star Stories and Utena.

JennyLand (E) Helina's amazing collection of Jenny and Licca dolls. One can purchase Jenny and Licca dolls here, as well as clothing.