Miscellaneous Japanese Dolls Gallery One
NONE of these items are for sale.
This is a private collection.




I call her my "Awa" doll. She is holding a shamisen, a traditional Japanese stringed instrument.
The Awa Odori Dance ("Fool's Dance") is performed during the Bon Odori Festival, in summer.


Reference picture, from a Bon Odori celebration (Notice the shamisen and half-moon hat).


There is an old, tattered label attached to the dollstand:
This ... "Samisen" (guitar like instrument) player in old Japan. It comes from a Japanese Kabuki drama."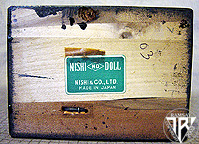 The bottom of the dollstand reads: "Nishi & Co., Ltd. Made in Japan."




She is a special Okinawan doll.
She is performing the Yostudake Dance, in a colorful bingata.


Reference picture of classical Okinawan dancers (Notice the beautiful flower hats).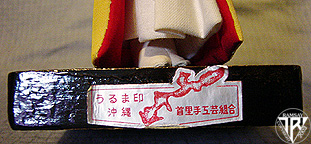 The is a label in Japanese, of where the doll originated from.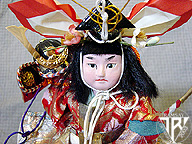 A fancy "Boy's Day" warrior doll.
In Japan, Boy's Day is celebrated on May 5th.




This doll represents a young samurai of high status (Notice the exquisite kimono).
He holds a traditional helmet, symbolizing strength and protection from misfortune.



The doll is meant to bring good-luck to the boy of the household.
---
Please select from one of the four Galleries below:
---
These Chara Doll galleries visited
times since 3/23/02.
Free counters provided by Andale.


Copyright 2002~2006 David Ramsay and Kimberly J. Ramsay. All rights reserved.
"The Japanese Animation Super Premier Entertainment Review" ,
"the J.A.S.P.E.R." and "theJASPER" logo are trademarks of David Ramsay, 1998~2006.
"theJASPER Cosplay Closet" logo and
"The Cosplay Closet: 'Where Costumes Become Anime-ted'" slogan
are ® Registered Trademarks of theJ.A.S.P.E.R. Cosplay Closet, Inc., 1999~2001.
David "Z-RAM" Ramsay and Kimberly "Hikaru-chan" J. Ramsay acknowledge the
copyright holders of materials contained herein and do not seek to infringe on their rights.
Reproduction in whole or in part without permission is prohibited.
First uploaded March 23, 2002 by: Kimberly J. Ramsay