Roughneck Joe© 12" Figure
NONE of these items are for sale.
This is a private collection.




Roughneck Joe©, a custom 12" figure by David Ramsay.
Being a big fan of the movie Starship Troopers, by Paul Verhoeven and the original novel by Robert A. Heinlein, I wanted to design my own action figure. This is the custom-made Starship Troopers Mobile Infantry (M.I.) armor made to fit the 12-inch, 1997, Classic Collection GI Joe action figure (...but will fit any 1/6-scale figure: Dragon, Elite Brigade, etc.). It is patterned from actual film-used armor. Materials used here are the same as in the actual props. EST-40 (A/B catalytic rubber) was used for all of the flexible pieces. Sil-Cast (A/B catalytic resin) was used for the accessories. This gives the armor a similar feel and assembly to that of the original.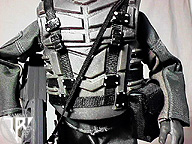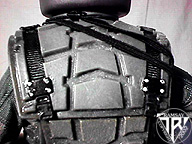 The M.I. armor uses EST-40, tinted gray. Three separate pieces are molded: belly, yoke and back and then Cyno'd together. Details such as strap segments and buckles are put in place. All webbing plates are black and have rivet details, just like the actual armor. A molded rations and water bottle pouches are then attached to the armor.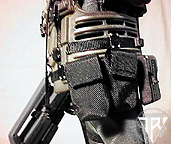 To the left side, magazine pouches made from black pack-cloth hold the two extra Morita magazines. On the right side, a thigh knife sheath , with removable knife, is held on by elastic leg loops.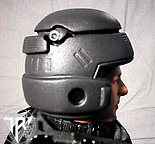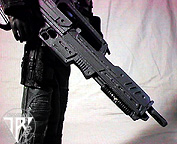 The M-3 tactical helmet and Morita rifle are made from Sil-Cast. This simulated "A-grade" helmet has painted ear screens and a removable chin strap. Foam inserts help keep Roughneck Joe© in style! The Morita rifle has a removable magazine, and adjustable shoulder strap. Both the helmet and Morita were sculpted from original props.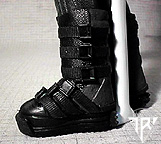 The cast rubber M.I. boots help showcase this armor set. Made from EST-40 tinted black, they are slush-cast for a comfortable fit. Again sculpted from original props, every detail is captured! From the webbing and buckles that encircle the upper half, to the (Adidas 1995 Winter Trekker hiking shoe) tread on the bottom.
There are 47 individual pieces in each Roughneck Joe© armor set, and 52 in the uniform alone (...information and images of the uniform in the near future).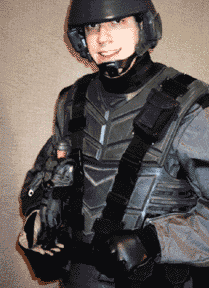 Citizen Dave is doing his part!
For more information about Roughneck Joe©, please visit:


http://www.trooperpx.com/roughnek.html
---
"Roughneck Joe" and "Roughneck Jane" Copyright 1997-2006 David Ramsay. All rights reserved.
These Chara Doll galleries visited
times since 3/23/02.
Free counters provided by Andale.


Copyright 2002~2006 David Ramsay and Kimberly J. Ramsay. All rights reserved.
"The Japanese Animation Super Premier Entertainment Review" ,
"the J.A.S.P.E.R." and "theJASPER" logo are trademarks of David Ramsay, 1998~2006.
"theJASPER Cosplay Closet" logo and
"The Cosplay Closet: 'Where Costumes Become Anime-ted'" slogan
are ® Registered Trademarks of theJ.A.S.P.E.R. Cosplay Closet, Inc., 1999~2001.
David "Z-RAM" Ramsay and Kimberly "Hikaru-chan" J. Ramsay acknowledge the
copyright holders of materials contained herein and do not seek to infringe on their rights.
Reproduction in whole or in part without permission is prohibited.
First uploaded March 23, 2002 by: Kimberly J. Ramsay